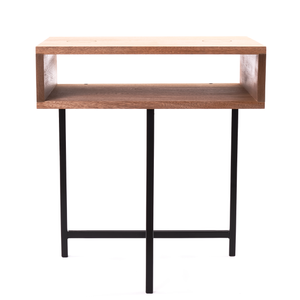 minimal.works
Nightstand
Sale price Price $ 3,500.00 Regular price Unit price / per
Tax included.
A nightstand designed for wireless charge.
Our nightstand is a pretentionless piece of furniture, that will outstand on your living room by your favorite sofa or by your bedside.
Our nightstand houses room for two concealed Qi wireless chargers for your phone and earphones. Charge both at the same time in great style.
We love it, as it delivers easy access to your belongings, combining functional and minimalist design.
Our product has a small number of elements, so you will have an easy time building it right out of the box. And if any day you should move between houses, packing will be as easy as unscrewing some bolts.
Our bedside table is made entirely of solid wood, and the metal base is finished with electrostatic paint, so time will pass without worries. You can buy our product in either of two wood choices: pink poui or ash tree.
For your peace of mind and convenience, every item bought in our store is sent via the
UPS package delivery company
, so you can actively track your parcel at all times.
*The estimated time for shipping the items is 3 weeks*
*Wireless charger, cellphone or other illustrative items NOT included*